Who We Are
Our company is on a mission for our community
EC Hispanic Media is a Los Angeles-based multi-media company with headquarters in Norwalk, CA. Our mission has been to connect buyers and sellers within Hispanic communities while also empowering Latinos. Through what our diverse range of brands offer, we seek to make educational and generally helpful resources available for Latinos to improve their lives. We ensure that advertisers are able to reach the Hispanic market and position their brands as leaders of their respective industries.
Get in touch with a team member
Join our team and work with our many brands:


What You Want
Why Work With Us?
Great learning opportunities for you to secure your future as we expand our digital capabilities and resources at EC
Learn from experienced peers
Some of our employees have been here over 20 years and will walk alongside you as you expand your role and capabilities
As new trends develop and new products come to fruition, our EC team will give you all the tools you need to learn and grow
Current job opportunities
Please see openings below!
WE ARE LOOKING FOR PHONE SALES AGENTS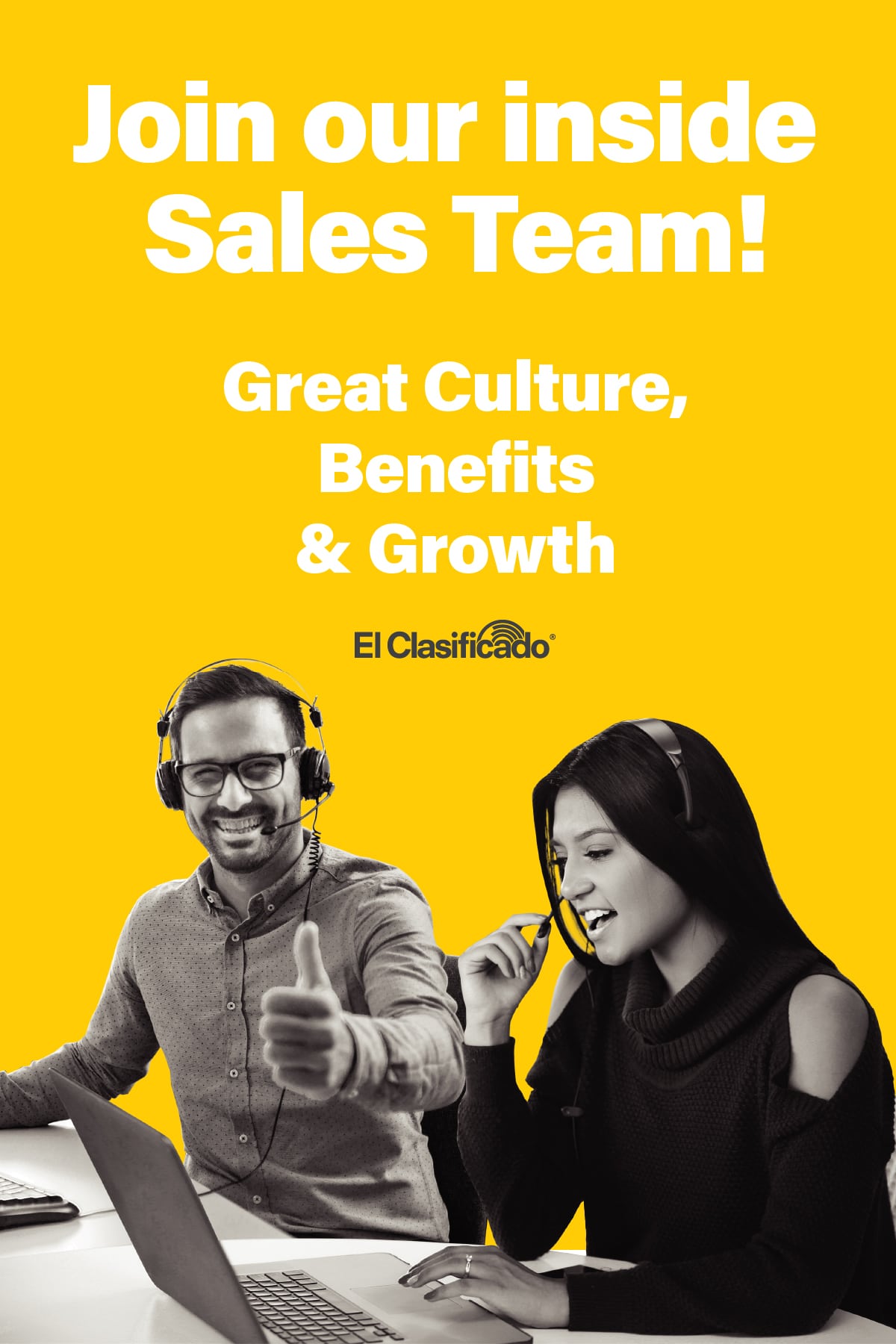 Description of Position:
Responsible for prospecting, selling, and maintaining an active client portfolio for El Clasificado advertising campaigns (digital and print)
Scout new clients, inside and outside of California
Follow up on assigned leads, and provide weekly updates
Meet weekly and monthly goals
Maintain a good relationship with assigned clients, supporting them with the necessary changes and maintaining results
Provide solutions to avoid cancellations
Be aware of the statistics of your clients' campaigns, ensuring that you are providing a quality service
Use excellent customer service skills
Answer emails, respond to requests, and finish tasks quickly and efficiently
Details:
Full-Time
Candidate must be bilingual (English/Spanish)
Hourly Wage
Commission Compensation
In-Person – Norwalk, CA
Benefits:
Base salary + commission
401K plan
Health, Vision and Dental Insurance
Paid vacation and more
BUSCAMOS AGENTES DE VENTAS POR TELEFONO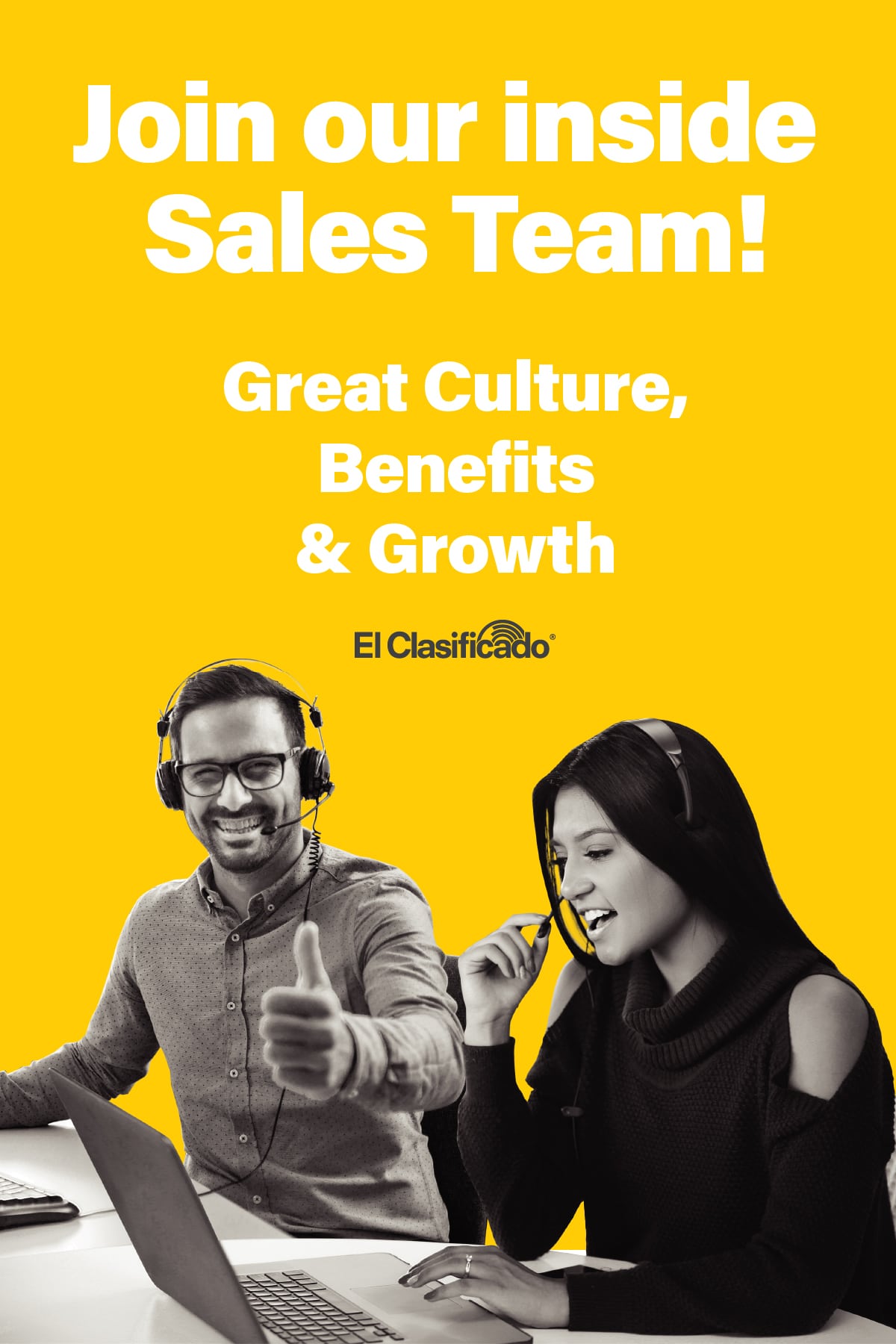 Descripción del puesto:
Responsable de la prospección, venta y mantenimiento de una cartera de clientes activa para las campañas publicitarias de El Clasificado (digitales e impresas).
Buscar nuevos clientes, dentro y fuera de California.
Realizar un seguimiento de los clientes potenciales asignados y proporcionar actualizaciones semanales.
Cumplir objetivos semanales y mensuales.
Mantener una buena relación con los clientes asignados, apoyándolos con los cambios necesarios y manteniendo los resultados.
Brindar soluciones para evitar cancelaciones.
Conocer las estadísticas de las campañas de sus clientes, para asegurarse de estar brindando un servicio de calidad.
Utilizar excelentes habilidades de servicio al cliente.
Responder correos electrónicos, atender solicitudes y completar tareas de manera rápida y eficiente.
Detalles :
Tiempo completo
Salario por hora
Candidato debe ser Bilingue (Ingles/Español)
Compensación por comisión
En persona – Norwalk, CA
Compensaciones:
Salario base+ comision
Plan 401K
Seguro de Salud, Vision Y Dental
Vacaciones pagadas, y mas
Ready to take the next step in joining something great?
Competitive compensation package
Annual Vacation
Healthcare Plan
Ongoing Support
401(k) Matching
Training Opportunities
Social Activities
Career Progression Opportunities
Contact us today
for more information about our job openings